FRESH FASHIONS: HOW TO DRESS FOR SPRING!
A new season means new clothes, and we're very excited about it. But what do you do when it's cold in the morning, hot in the day, and cold at night? The key to pulling off a stylish spring outfit is to start with funky basics and update your style throughout the season. Here are our top fashion tips for what to wear for spring:
The Best Basics To Wear For Spring
The key to having the perfect spring outfit is to start with a good spring foundation. If you have a wardrobe full of essentials, you can easily mix and match. They also offer a stylish spring outfit that you can accessorize. Here are some things you should start with:
The elevated T-shirt. For an effortless look that exudes coolness, opt for a Neoprene or cashmere T-shirt that will give your outfit an extra touch of elegance.

A light jacket. On cold mornings and nights, a lightweight jacket is the ideal complement to your spring outfit. The trench coat is also a classic, but bomber jackets and denim jackets are now spring trends, too.

The easy dress. The dress is a one-piece spring dress. All you have to do to find a relaxed and chic look is throw it away in the morning and leave.

Tailored pants. Once an office classic, cropped pants are now an after-work staple. Cropped pants look casual and tailored. Ideally, you want a pair that cuts above the waist and above the ankle. Our favorite spring tip: You can wear them with heels and flats.

Perfect white sneakers. Think weekends are cool, not sneakers. White sneakers add a minimalist look to spring and are loved by fashionistas because they are cool outside of work. Look for a leather or sturdy canvas piece with a slim silhouette and clean details.
This Season's Best Spring Outfit Ideas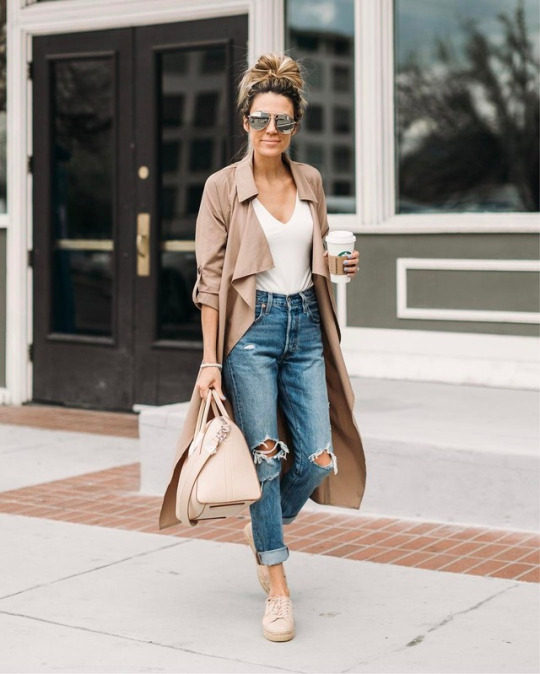 For Spring 2017 is all about mixing and matching, breaking the rules and finding clothes that work for you. Here are some of our favorite costume combinations:
Sweater and MIDI skirt. Sweater weather isn't over yet, so don't put your sweater away; But instead of wearing it with jeans, try a MIDI. Polished silhouettes will make your outfit look more elegant; Put on your heels and you're good to go.

Cropped jeans and mules. It's the perfect match for a thinking lady. Cropped jeans accentuate the ankle, while classic jeans make the whole outfit look more elegant. It's perfect for a night out.

Denim on denim. This combination used to be strictly forbidden, but as we said before, the rules have been broken. We love wearing a button-down denim shirt with vintage denim flares and a leather jacket to break that feeling.

Off-the-shoulder top and jeans. See the trend? It's all part of an effort to make our favorite non-work attire feel more feminine, and feminine strapless tops are a great way to polish up jeans.
What are you going to wear for spring? We'd love to know if you have your own must-have spring wardrobe, or how you update your old clothes this season.